Cowtown 2018: The End of Training and the Races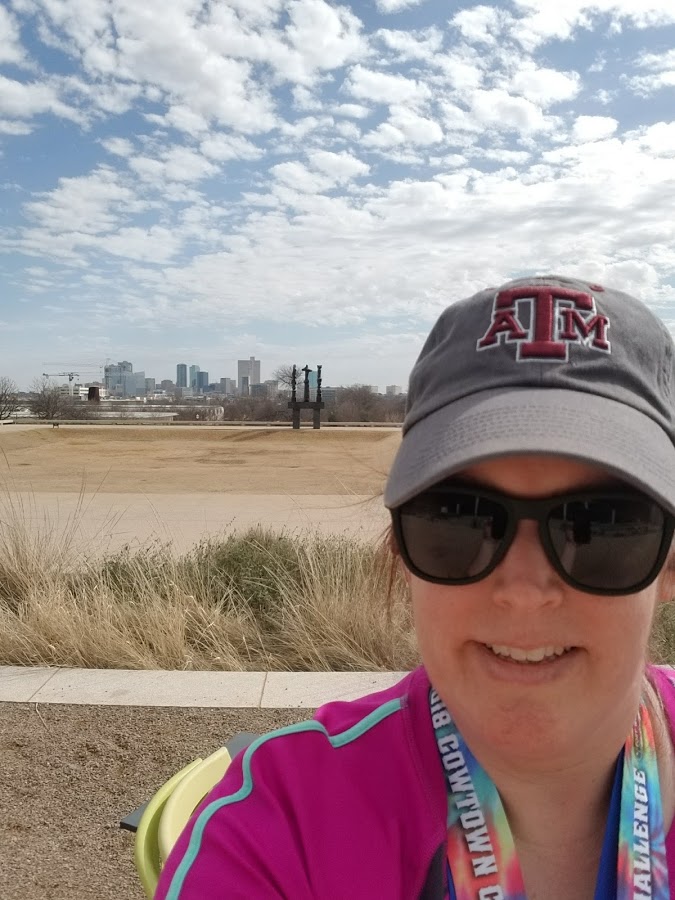 I was still having some shin pain, so I decided to take the last two weeks before Cowtown completely off from running. I figured at that point, I could only hurt my race chances and do nothing to improve them. I kept up with my twice a week Body Pump class, but lowered the leg weights again. I increased my chest weight, though!
Now for the race recaps. By Friday, the Saturday morning forecast was looking fairly ominous, with the possibility of thunderstorms and hail. Since my car is still fairly new, I didn't want to risk the hail, so I decided to park in the museum garage for the 5K. The 10K should have started at 7:00, but was under a weather delay when I arrived. Luckily, we had a break in the weather by 8:30 for the start of the adult's 5K, so we started on time, and the 10K started with us. It didn't even rain during the 5K, although I did get my feet a little wet from the puddles. My shin was hurting, so I took it easy, and turned in my slowest ever 5K. After I finished, I went to the start of the kid's 5K to cheer on a friend and her daughter, but, just as the rain started to pick up, another weather delay was announced. I went back to my car and attempted to leave the garage. After no movement for at least 45 minutes, we finally got someone to direct traffic on the street outside, and I exited the garage about an hour after getting into my car.
Important lessons learned from the 5K: 1) When you get a new phone, be sure to pair your bluetooth headphones before you're in the corral to start a race. There were so many bluetooth devices nearby, I couldn't find mine, and ran the entire 5K without music. 2) Do NOT park in the garage at Cowtown!
Sunday morning, the weather was much better. It was chilly, but didn't feel as cold as it has the past two years. I was not going to deal with the garage again, so I parked where I usually park for Cowtown. Starting out, I felt better than I thought I would. I had already decided to walk all of the hills, because they make my shin hurt worse. My 5K time was only a few seconds slower than yesterday's 5K. Since I wasn't running for time, I stopped for a selfie with Elvis.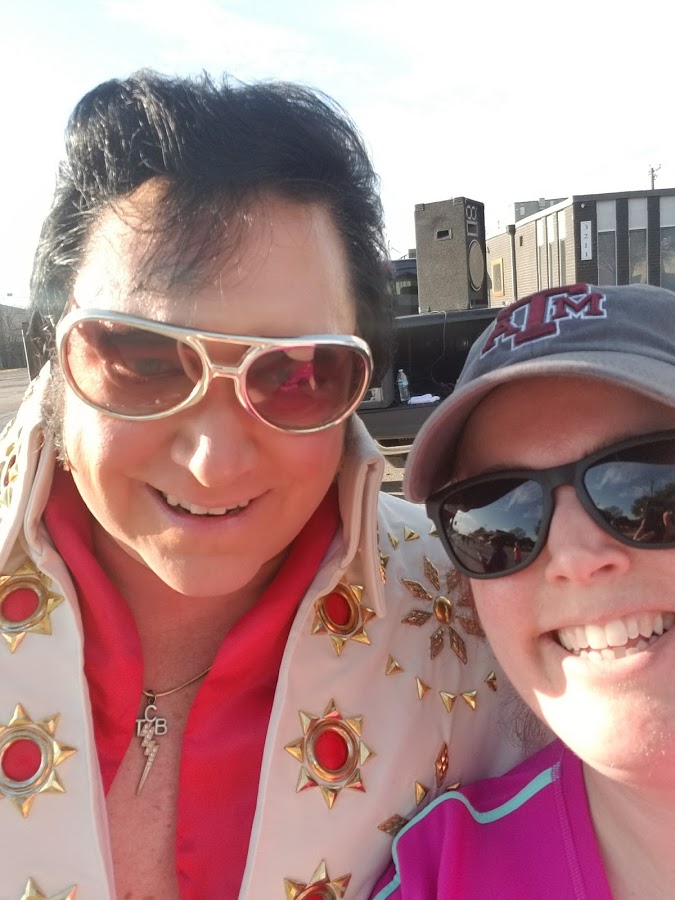 I started feeling hot by mile 4, and wished I had worn a skirt instead of capri leggings. By the time I got to the 10K point in the Stock Yards, I was still feeling ok. My 10K time was actually faster than my Pumpkin Spice 10K time in November. However, I had been pretty sick for that race, so it's probably not a fair comparison.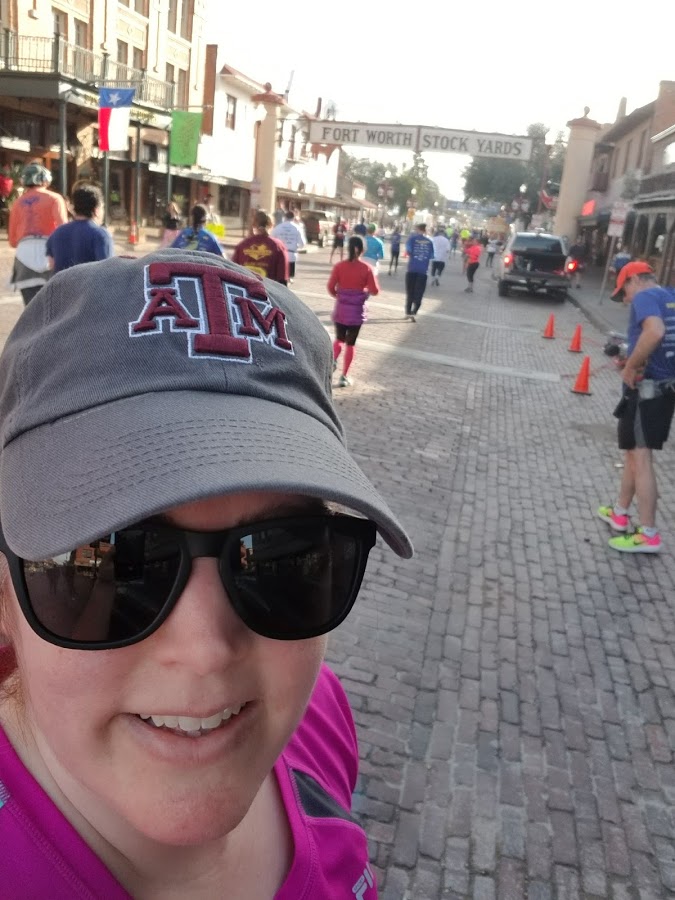 After the Stock Yards, my feet didn't hurt as bad as usual; those bricks are rough! But, then, I got hungry. Really hungry. I could feel I was starting to fade a little by mile 8. Mile 9 is the dreaded Main Street viaduct. I really have nothing nice to say about this part of the course, except that it always feels like a major accomplishment to get to the top of it.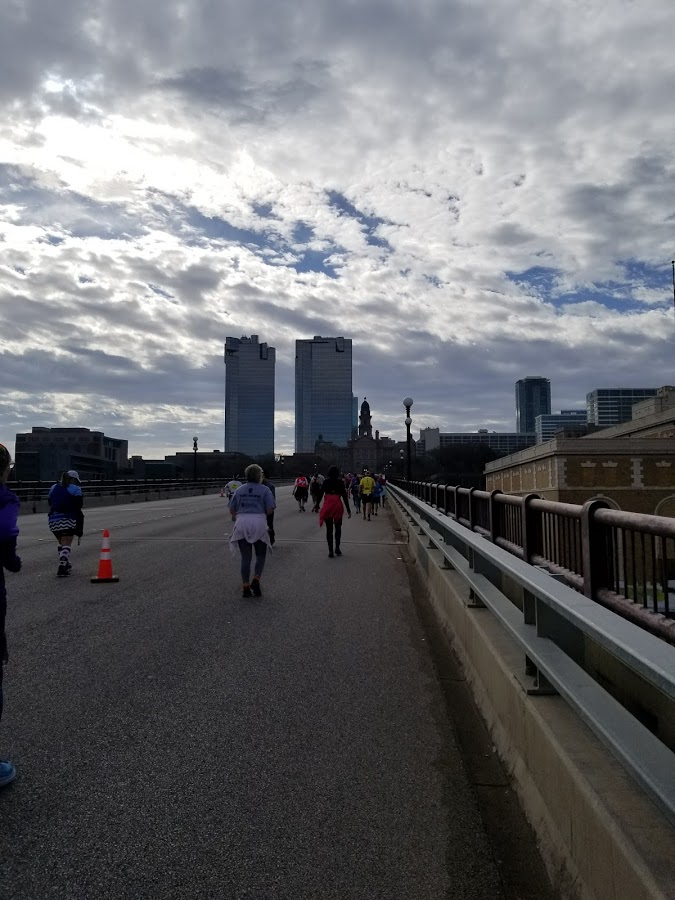 After I got into downtown, I was spent. Everything was starting to hurt, and I was tired. After the split with the ultra and full marathoners, we turned onto Lancaster, and I met "The Cowboy". He was running the half in full cowboy gear – long sleeved shirt, vest, jeans, chaps, hat, boots! and carrying a lasso. He was encouraging as we ran near each other, even though he was sweating profusely. After the hill at mile 11, I was really hurting. This is my "the finish line is over there" photo.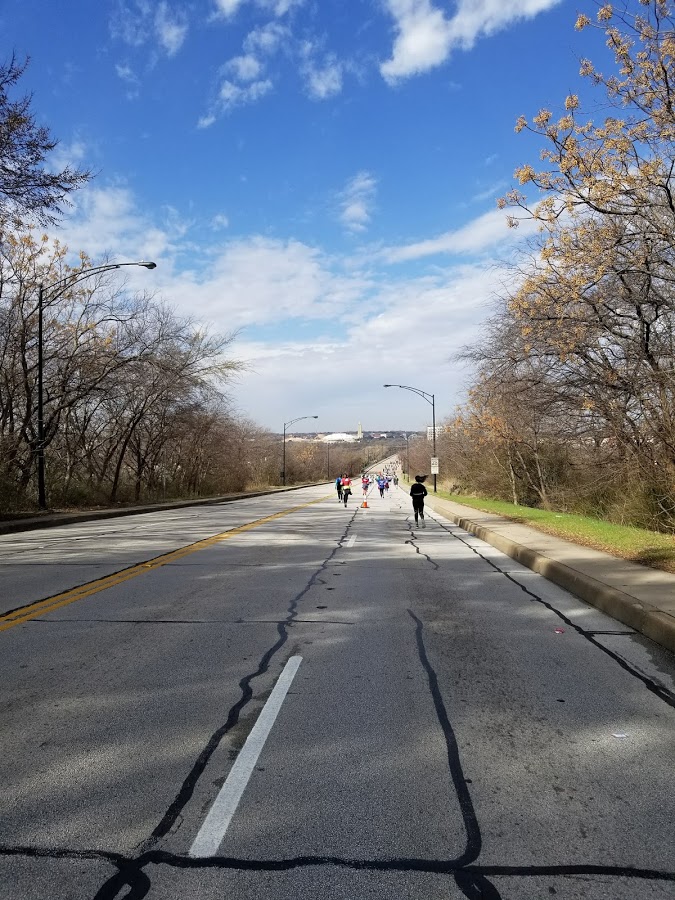 I walked most of the rest of the race, only running a few downhills, a very few flat portions, and the last tenth of a mile to the finish. It was, by far, my slowest half, but, I felt good about it. Those last 2.1 miles were a mental battle I won when my body was just about done.
I collected my food, finisher shirt, medals, and challenge brag rag (towel). I took my now-traditional photo in front of the Amon Carter Museum with the downtown skyline, finally made it to my car, and ate my Blue Bell before it could melt.
Cowtown is a great experience! There are so many volunteers that make this race possible. The water stops were all still well-stocked with plenty of volunteers when I went by, even though I was far from the front of the pack. Everything was cleaned up on Main street by the time I drove to work Monday morning. All of the law enforcement officers (FWPD, sheriff's deputies, and possibly others) keep us safe, and many encourage the runners. The spectators are wonderful, too! I love reading the signs and high-fiving the kids.
What's next? Since I'm still having shin pain, I will make sure I get some rest to recover. I have a relay with 3 friends in a month, where we're each running 4.5 miles, so I need to be ready for that. My #1 goal is to build a good base, and not slack on running over the summer.
---
---