Texas Spring Break Trip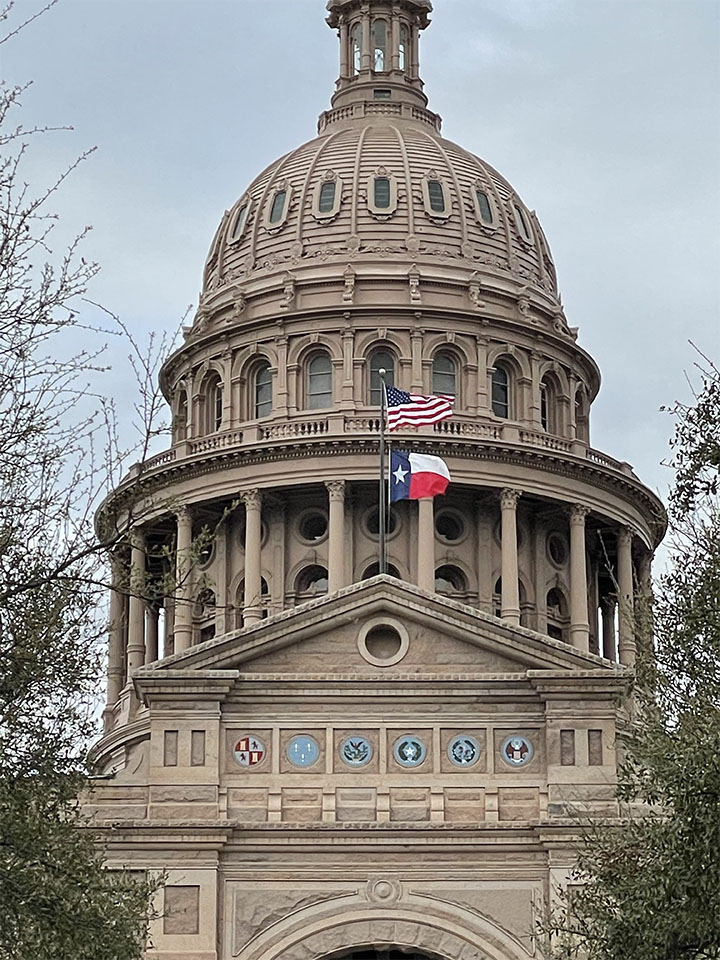 Hannah requested a senior trip to some Texas cities. We decided to take a short trip to San Antonio, stopping in Austin on the way.
We left Fort Worth, stopped at Buc-ee's for gas and Whataburger for lunch before getting to Austin. For those travelers unfamiliar with the I-35 corridor, you will begin hitting heavy traffic in Round Rock, and will run into many more heavy traffic spots all the way to San Antonio. In Austin, we walked around the capitol grounds. It was a cool, cloudy day, and there were a lot of people enjoying the outdoors. After leaving Austin, we stopped at DQ for blizzards. We were tired by the time we got to our hotel in San Antonio, so we just walked to a restaurant by the hotel for dinner.
The next morning we had breakfast at The Magnolia Pancake Haus, which was delicious. Then, we drove downtown and started our day at the Alamo. Unfortunately, I did not think to check ahead, so, if we wanted to go inside the church, we would have to wait until late afternoon. We decided to do the audio tour, which got us onto the grounds and into the museum.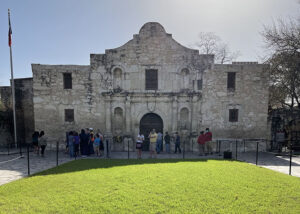 After the Alamo, we walked down to the River Walk for lunch. The river was green for St. Patrick's Day.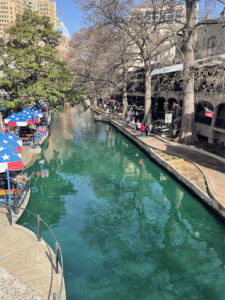 After lunch, we visited Mission San Jose, which is part of the National Park Service. This has always been my favorite San Antonio Mission. It is much less crowded than the Alamo, and the grounds are bigger. The Rose Window is beautiful! It was a rather warm afternoon, so we decided not to visit any of the other missions. I have had a National Park Passport book for years. Due to COVID, there was not a stamp station, but the web site said a ranger would mail stamps to you, if requested by email. I requested 3, one for me and each kid. A park ranger responded quickly and the stamps arrived soon after we returned home.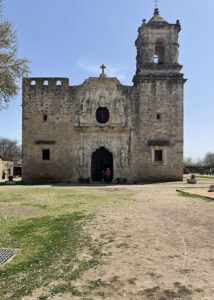 On the way back to the hotel, we stopped at H-E-B to buy drinks and snacks for the hotel room, making this the most-Texan of Texas road trips.
The following morning, we started the day with breakfast at Le Peep Cafe. Then, we explored the Japanese Tea Garden. This is a great free place to visit in San Antonio. The February freeze had damaged a lot of the plants, but they were working on getting the garden back in shape while we were there. I would love to go back and see it sometime. Then, we walked a trail in Brackenridge park. It was a nice walk. It was starting to look like spring, and we found several ducks, including some babies.
That afternoon, we drove out to Natural Bridge Caverns. We bought tickets ahead of time, which I suggest, at least during spring break. We did the Discovery tour, which is about a half mile. The end is rather steep, so it feels like quite a hike to get back up to the surface. This photo was taken at the top of that climb back into the Hall of the Mountain King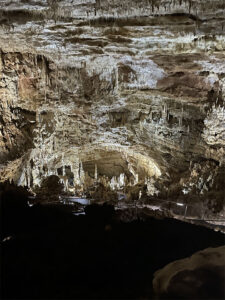 The final day of our trip, we drove to Fredericksburg, did some shopping there, and had lunch. It was cold an windy! We drove by Enchanted Rock, hunting for bluebonnets. We saw a few, but were too early to see many.
---
---