Cowtown Challenge: 5K and Half Marathon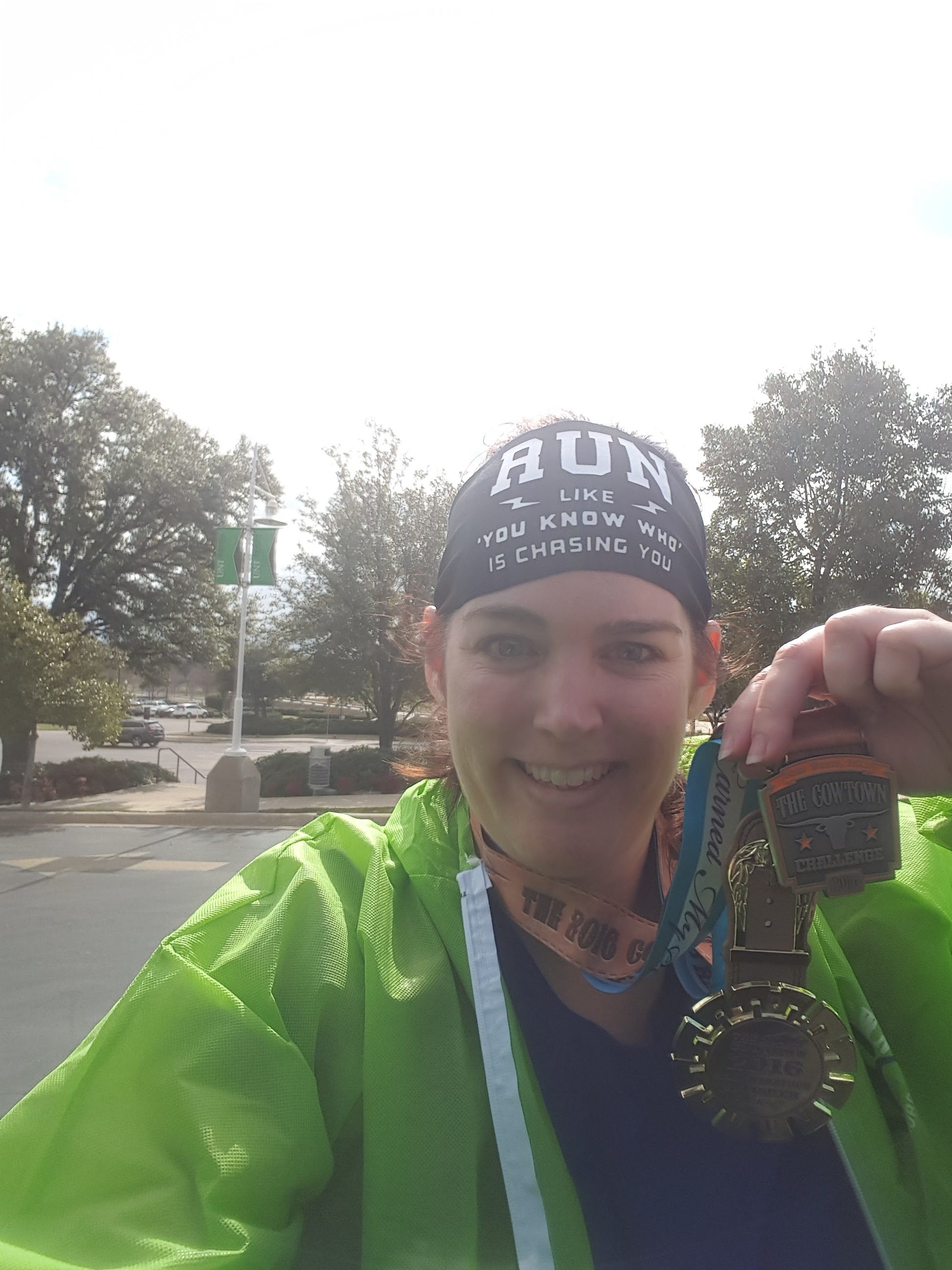 The last weekend in February, I completed the Cowtown Challenge by completing a race on each day.
Saturday, I ran the adult's 5K. I took it slow and didn't have to walk at all. A lot of the course was downhill, and I think I would have had a good chance to PR had I not been saving myself for the half the next day.
Sunday, I ran my first half marathon. We got there early. This was the largest race I have run, because the ultra and full marathons start at the same time as the half. There were 8 corrals of runners. The race starts at Will Rogers Coliseum. The clouds started to roll in just before the start of the race.
The course then heads down Lancaster to Trinity Park, then on to West 7th, through some neighborhoods, and eventually onto University. The Elvis impersonator was was just before the turn onto University. Before this, we had already passed a couple of bands, and some girl scouts giving out free cookies to runners. I kept a decent pace until the first hill on University, where I took a quick walk break, then we went through more neighborhoods, with more bands, aid stations, and people cheering us on.
Then, we arrived in the Fort Worth Stock Yards. I didn't find the bricks as bad as I have heard some runners think they are, but I ran a 5K last year that started in the Stockyards, so I had a little experience running on them.
We turned south to head to 23rd street. I didn't get a photo of the Swift Armour ruins, but they were eerie looking in the cloudy weather. We turned on 23rd to head back to Main Street. That stretch never seems long at all when I drive it, but this is where my feet were starting to hurt, so it seem to take awhile. After this, we were on Main Street for awhile. That bridge going into downtown is no joke. There were a lot of spectators on the bridge, so that helped, but it was still hard. I do love looking at the Tarrant County Courthouse, so I had to get a couple of photos.
Houston Street is where most of the spectators were. Mayor Betsy Price was even on the street giving high fives. We turned onto Lancaster, and this is where the ultra and full marathoners split off from us. The hill at mile 11 almost did me in, but at least there was a bagpipe player here. Starting with that hill, the rest of the race was a struggle for me. My feet and ankles were really hurting, and I ended up walking a lot of mile 12. But, I finished! I'm so proud of myself for doing it, and I plan to run the half again next year. And, I got my challenge medal.
---
---