North Carolina Vacation – Chimney Rock State Park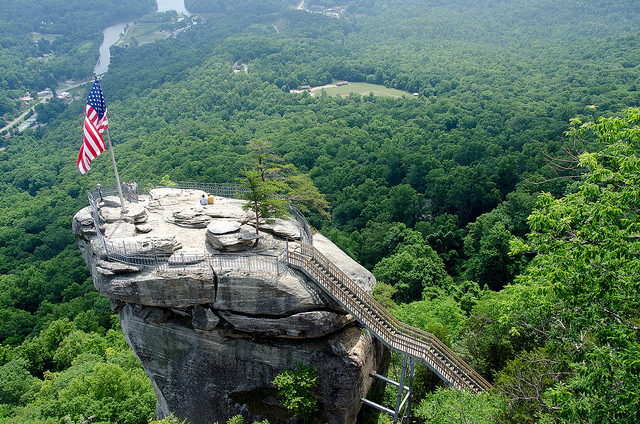 I'm finally getting around to writing about our vacation we took in June. We decided to drive back to Asheville, NC, and do the things we didn't get around to doing the last time we visited. At the top of that list was Chimney Rock State Park. We got a later start than planned, because we were afraid it was going to rain. We finally decided to take a chance. If you like stairs, this is the place to be.

A view of Chimney Rock on the way up.

A view of Lake Lure from the top of Chimney Rock.

We decided to go up further, to Exclamation Point. Look! More stairs.

In the Opera Box, looking down on Chimney Rock and Lake Lure.

Devil's Head.

We made it to Exclamation Point.

After we got back to the parking lot, we decided to take the much easier hike to Hickory Nut Falls.

My Fitbit said we did 101 flights of stairs. We decided to take it easy for the afternoon, and went to see a movie. A thunderstorm hit Asheville during the movie, and briefly knocked the power out. That was our second movie in a row to be stopped in the middle due to a thunderstorm.
---
---