Colorado Vacation Part 4: Emerald Lake Hike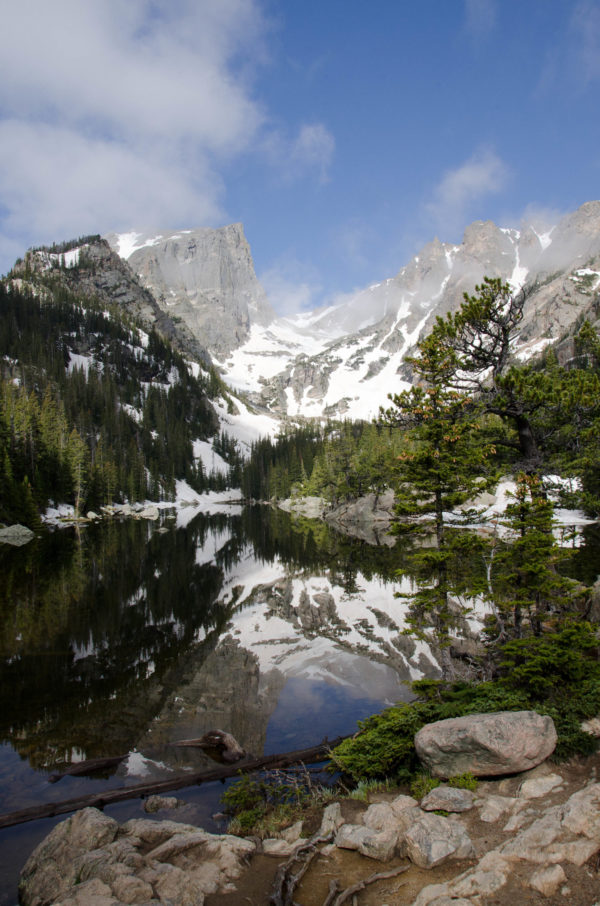 I'm finally getting around to posting the final post of our 2014 vacation. Before we started on the Emerald Lake trail, we took the loop around Bear Lake.

I was surprised at how much snow was still around this lake. It was a cloudy morning, so I was afraid we weren't going to be able to see much on our hike.
After the loop around Bear Lake, we hit the Emerald Lake trail. I loved this hike! The scenery is beautiful! My one regret is that, in the interest of saving some weight in my backpack, I left my ultra-wide lens back in our room. I really wished I had that lens when we got to Emerald Lake.
There are 3 main lakes on this trail. The first is Nymph Lake.

Walking around Nymph Lake, we saw this dead tree.

The clouds started to lift a little after we passed Nymph Lake.

The trail had a lot of snow on it near Dream Lake.

We briefly lost the trail just before Dream Lake. Dream Lake was absolutely beautiful, and this is probably my favorite photo of our entire vacation. Hallett Peak is the peak to the left and Flattop Mountain is to the right.

After losing the trail several more times in the snow, we made it to Emerald Lake. We were the only ones there. It was so peaceful. The lake was still mostly frozen over.

As the clouds cleared out, we got some better views on the way back down.

And, two final, non-hike photos. On the way out of the park, we drove by Sheep Lakes, hoping to see some bighorn sheep. There were no sheep, but a lot of Elk.

As a huge Stephen King fan, I couldn't leave Estes Park without stopping for a photo of The Stanley.

---
---