Colorado Vacation Part 3: Trail Ridge Road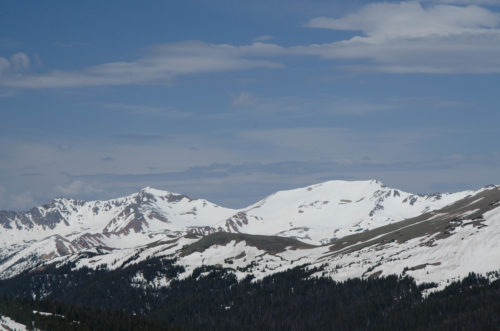 I am slow, slow, slow to post. We spent one morning of our vacation driving over Trail Ridge Road from Estes Park to Grand Lake. A word of advice to Texans visiting in early June – wearing shorts is a bad idea.
Before we started out, we make a quick stop near Moraine Park so that I could take some photos of Longs Peak.

Our first stop on Trail Ridge Road was the beaver ponds.

This is the view of the beaver ponds and alluvial fan from Rainbow Curve. This is also where I started to notice that I was a little chilly.

The views were beautiful!

We hit a small patch of ice just before we got to the Alpine Visitor Center. We stopped here for a minute, even though it wasn't open, yet. Based on the temperature when we stopped here again on our way back, I'm guessing it was somewhere in the 30s when we stopped the first time.

The Never Summer Mountains on the western side of the park

We saw a deer grazing just off the road.

Some elk grazing near the Grand Lake entrance.

We stopped to get gas in Grand Lake before heading back. This was the view from the gas station.

On the way back, we saw more snow-covered mountains and a frozen Forest Lake.

This was a beautiful drive! Next time, I won't wear shorts, so that I can spend more time outside at some of the higher stops.
---
---