Craziest Texas Winter I Have Ever Seen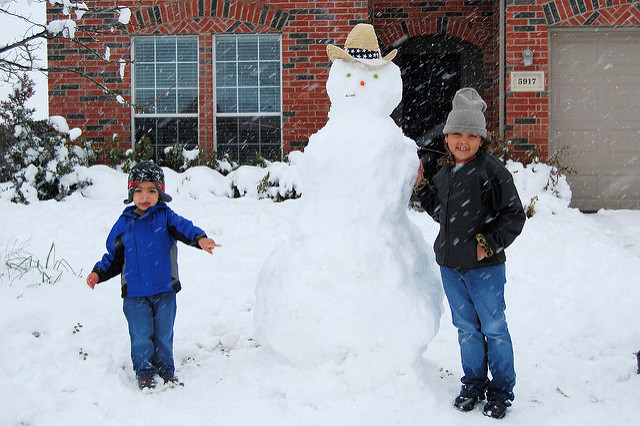 After the 3 or so inches of snow we got Christmas eve, I figured we wouldn't see much more snow this winter. Boy was I wrong. February 11, we had a forecast snowfall of 1 to 3 inches for the day. The beginning of the storm was predicted to be a mix of rain and snow, so when I woke up Thursday morning and hadn't heard any rain, I figured we hadn't gotten any precipitation. I looked out the window and saw a blanket of white. This is a picture of our street just before I left for work that morning.


The temperature stayed above freezing all day, so I wasn't too worried about the roads. All day at work, I watched the snow continue to fall. They finally adjusted the forecast to 6 inches, but some of the cars were driving around at noon with about 6 inches of snow already on top of them. We began to get worried about the state of the roads, so both Bill and I left work at 3:00. I picked up the kids at daycare, and thought I was going to get stuck in the snow in the parking lot. We made it out of the parking lot and into the garage. We had a snowball fight and built a snowman.


Zachary wasn't too thrilled about getting out in the snow.


The snow covered our satellite dish, so we had to sweep it off to get reception. As the evening and night went on, I watched in disbelief as the snow kept coming down. We got the announcement that Hannah's school was going to be closed on Friday. The snow finally stopped sometime after midnight. The next morning, we woke up to a record snowfall for DFW, officially over a foot at the airport, and I'm pretty sure we got that much or more.


The snowman collected a lot more snow on his hat overnight, but temperatures didn't stay below freezing for long, so he started leaning.


Our next door neighbor's tree had a lot of extra weight.


The lump in this picture is my raised garden.


The snow melted throughout the day, but we still had plenty on Saturday afternoon to make two more snowpeople.


After this, we have the second snowiest winter on record for DFW, and we need less than 2 inches to break that record.
---
---