Trip, Day 2: Columbia River Gorge and Mount Hood Loop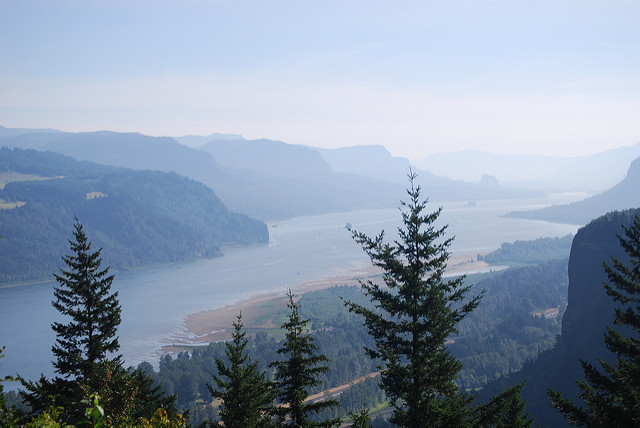 During the second day of our trip, we visited the Columbia River Gorge and drove the Mount Hood loop. The Columbia River Gorge was my favorite part of the trip. It was beautiful. We followed the historic Columbia River highway east of Portland. Our first stop was the Women's Forum State Scenic Viewpoint. Bill was wearing a Texas A&M t-shirt, so we met a couple of Red Raiders from Lubbock at this stop. Next, we stopped at Vista House. At this point, I wish we would have turned around and driven the extra 17 miles to Larch Mountain, but we decided to go on to the waterfalls. I was afraid it would be too hazy to see the five mountains (Ranier, St. Helens, Adams, Hood, and Jefferson) from Larch Mountain. So, we continued down the historic Columbia River Highway.
The first waterfall we visited was Latourell Falls. It was only a short hike down to the waterfall.

Next, we stopped at Bridal Veil Falls. Here, we had to hike a little to see the falls.


We also took another short hike to a view point overlooking the gorge.

Our next stop was Wahkeena Falls. I loved these falls. It had started to warm up a little bit by the time we got here, but we got a nice cool spray standing on the bridge in front of the falls.


We decided to hike a little ways up the Wahkeena trail. There were a lot of smaller falls and nice views of the gorge along the trail. This is one of the falls.


We decided not to go the full 3 miles of the trail, since we hadn't brought water and wished we had better shoes for hiking, so we turned around after a mile and a half.
Our next stop was the big waterfall – Multnomah Falls. These falls are right off of the interstate, so they get crowded.

Our final stop in the gorge was Horsetail falls.

After this stop, we drove across the Bridge of the Gods to Washington and had lunch at Skamania Lodge. After lunch, we drove to Hood River and then to Mount Hood. Here is a view of Mount Hood from Hood River.

Our final stop of the day before heading back to Portland was Timberline Lodge on the south side of Mount Hood. We got a close-up view of Mount Hood.

We were also able to see Mount Jefferson to the south.

---
---