Trip, Day 1: Mount St. Helens and the International Rose Test Garden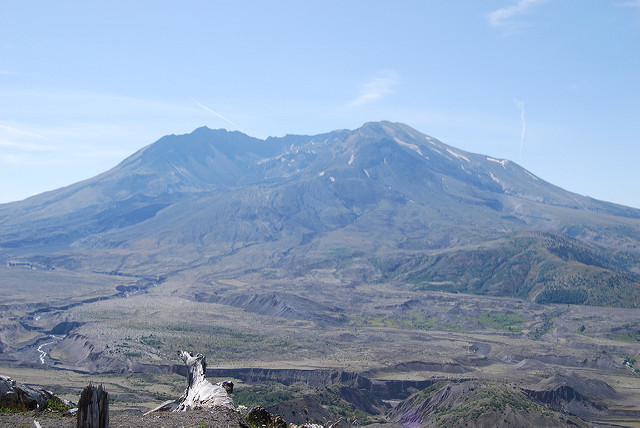 During the first full day of our trip last week, we drove to Mount St. Helens. It was amazing to see the effects of the devastation 29 years after the eruption. We visited the north side of the mountain, starting at Castle Rock, WA. Our first stop was the visitor center at Silver Lake. It was still pretty chilly when we stopped there. We stopped at several other viewpoints and visitor centers on the way to Johnston Ridge Observatory. This is one of my favorite photos along the way. Mount St. Helens is on the right, and Mount Adams is visible on the left.

This picture was taken near the Johnston Ridge Observatory looking northward. All of the white lines you see are trees that were knocked down in 1980. Most of the slopes facing Mount St. Helens looked similar to this.

The flies were horrible! They got progressively worse as we got closer to the Johnston Ridge Observatory, and there, they swarmed the signs and people, so our stay there was a little shorter than we had planned.
This chipmunk was trying to steal food from some people that were eating lunch.

This is a photo of the crater from Johnston Ridge Observatory.

A few facts about Mount St. Helens from the visitor's guide:
The eruption leveled 230 square miles of forest in less than 10 minutes.
The mountain lost 1300 feet of height.
The eruption began with a landslide that buried 14 miles of river valley to an average depth of 150 feet.
After a late lunch in Castle Rock, we drove back to Portland to the International Rose Test Garden. I mainly wanted to visit to get a picture of downtown Portland with Mount Hood in the background and I had read that this was a good place for that. But, I was surprised by the number of rose bushes. My photos don't do justice to the size of the gardens.

This is one of the best photos of downtown and Mount Hood. I actually got to this viewpoint by walking between some of the tennis courts by the garden.

---
---