North Carolina Vacation – Waterfalls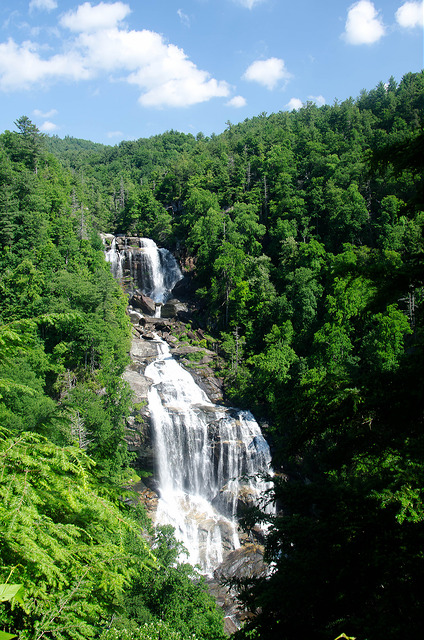 I love waterfalls! I love taking photos of waterfalls! So, our last day in Asheville, we visited waterfalls. We drove to Whitewater Falls, near the South Carolina border.
It is a short hike from the parking lot to Upper Whitewater Falls. The best vantage point requires that you climb down some stairs, so, of course, you also have to climb back up the stairs.

I had never visited South Carolina, so, in my quest to visit all 50 states, we drove across the border to hike to Lower Whitewater Falls. While driving to the parking lot for the trail, this deer ran across in front of us and paused long enough for me to snap a photo.

We actually missed the parking lot at first, and ended up at a viewpoint for Lake Jocassee.

Most of the trail is through trees, so you don't see much scenery. But, you do cross the Whitewater River.

At one point, the trail follows a gravel road for a bit, and then it's back into the trees and down to the falls viewing area.

Here's a close-up view of the top of the falls.

According to my phone, we hiked 4.21 miles out and back.
After driving back into North Carolina, we stopped at Bridal Veil Falls.

And, then, a short drive away, we stopped at Dry Falls.

Dry Falls was my favorite, because you can walk behind it and stay "dry", even though it involved more stairs.

According to my FitBit, this day was 7.09 miles and 129 floors.
Since I haven't mentioned food for this trip. Our favorites were Central BBQ in Memphis (The brisket nachos and pork ribs were delicious!) and Moe's Original BBQ in Asheville. We found Moe's the first time we were in Asheville. This trip, we picked up food from Moe's twice and had leftovers for lunch one day.
---
---