Trip, Day 3: Ecola State Park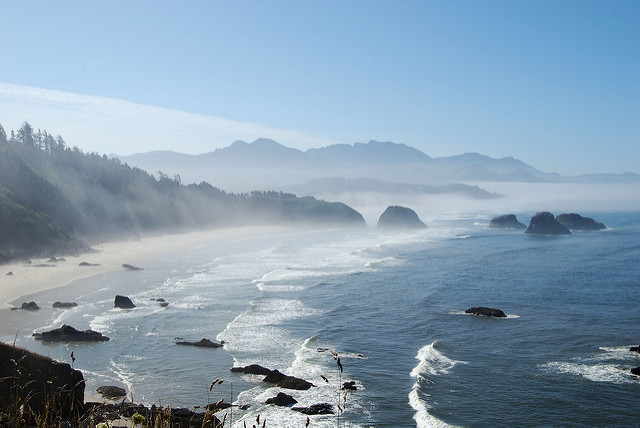 On the last full day of our trip, we drove to the coast. It was pretty chilly when we first got to Ecola State Park; it was only in the high 50s, and we had worn shorts and t-shirts. At the parking area, there is a really nice overlook, but the low clouds kept us from seeing very far. Unfortunately, we couldn't get a clear view of Haystack Rock because of the clouds.

We decided to hike the 1.5 miles to Indian Beach. Along the way, we had a lot of great views.

Here is Tillamook Rock Lighthouse from Indian Beach; the lighthouse is a little over a mile offshore and is no longer used.

After our hike, it was still cool, but we had warmed up quite a bit. It was about lunchtime, so we were going to stop in Cannon Beach for lunch, but Bill didn't want to deal with the crowds. Cannon Beach had tons of shops, and I think I could easily spend an afternoon there looking at everything. Unfortunately, there are not many places to eat between the beach and Portland, so we stopped at a Dairy Queen. I was looking forward to drinking a nice big Coca-Cola, so I was sorely disappointed to find that this Dairy Queen served Pepsi instead. At least they served Dr. Pepper.
---
---