Zachary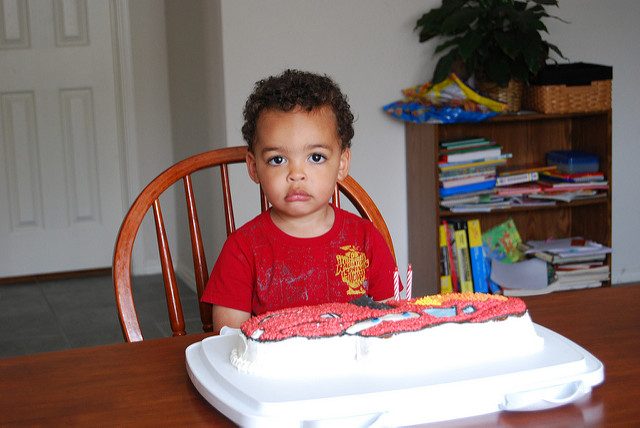 I finally have a little time to write about Zachary. We had his birthday party on Saturday afternoon. Hannah had a soccer game at 11, and they were also having a kid's fair at the soccer fields. Zachary got to see some horses, a Careflite helicopter take off just across the soccer field from us, and Sparky from TMS.
After the soccer game, we went out for lunch. Zachary drank all of his milk and tried to get the waitress to get him a refill. When she walked by, he looked at her, pointed at his cup, and said "More." She didn't realize he was talking to her, though. While we were eating, I recalled another time all of us had eaten at the same restaurant before one of Hannah's birthday parties, when Zachary was 6 months old. He fell asleep in the highchair and when I picked him up, he had soaked through his pants. About the same time I was thinking about this, Uncle Alan decided to mess with Zachary, which caused Zachary and his booster seat to turn on their sides in the chair. I managed to catch him by his head, but I had trouble getting him right-side-up in the chair, so I picked him up. And, what do you know? He had soaked through his pants again. So, I took him to the restaurant to change him and realized I didn't have a change of pants with me. So, Zachary left the restaurant in a shirt, diaper, socks, and shoes. Bill made the comment that he looked really classy.
After a short nap, we had cake and presents. I made a Cars cake.


Zachary didn't seem too excited about his Cars cake, and even less excited when Hannah decided she needed to be in the picture with him. He got more Cars and some trains.


After he opened his presents, the kids played with the party favors.


Ignore the dead plants in the background.
On Wednesday, Zachary went for his two-year checkup. He is 36.75″ tall and weighs 31 pounds 10 ounces.
---
---