Cowtown Challenge 2017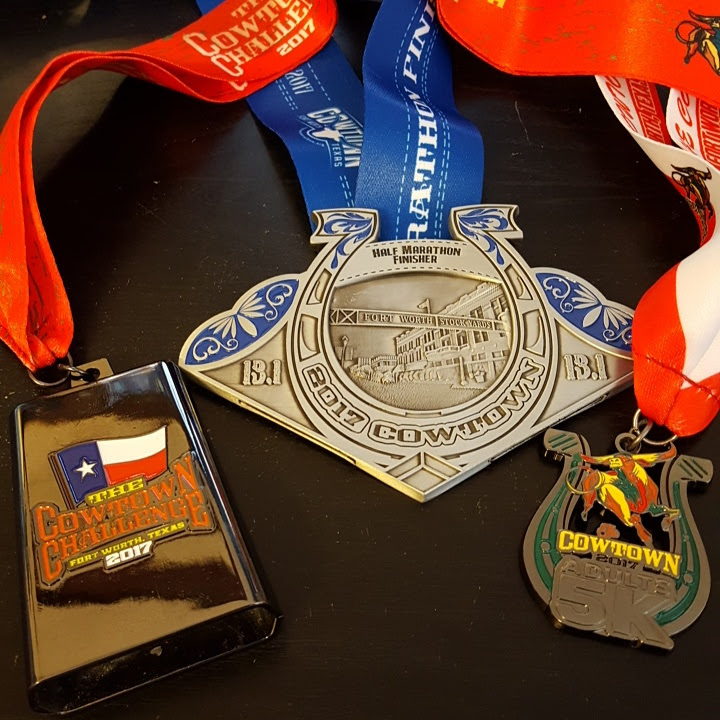 This was my second year running the Cowtown Challenge at the Cowtown Marathon. I chose the shortest race each day – 5K on Saturday and Half Marathon on Sunday. Saturday morning was cold! Since this winter has been so warm, it was a change. The 5K course was changed from last year, and I liked the changes; it was rerouted through Trinity Park and the Botanic Gardens. The first mile was mostly downhill, so I had a really good time on that split. After that, I started coughing, apparently not quite fully recovered from my cold a week ago, and I decided I probably shouldn't push too hard since I had the half on Sunday. The third mile was my slowest, and I finished in 35:02.
Sunday, I felt good at the start of the race. It was cold again, though not as cold as Saturday, so I debated on what to wear. I finally ended up with my wool socks, full-length tights, long sleeved light gray shirt, gloves, and Aggie cap. I figured I could push up my sleeves and ditch the gloves if I got too hot. I did start coughing again about mile 4, but nothing too bad. By the stockyards, I was still feeling good, and happy that my feet weren't hurting, because this is where they started hurting last year. I did roll an ankle on those pesky bricks, but it didn't hurt. One woman in front of me took a tumble. She got right back up and kept going. By Main street, I was starting to feel a little tired, and dreading that bridge going up into downtown. Ignorance is bliss on that bridge! Somewhere on the bridge, I pulled something in the bottom of my left foot. Anytime after that running, especially when first taking off from a walk, really hurt. Downtown also made me glad I never tossed my gloves. By the time I reached it, the clouds had moved in and the wind picked up, so it felt cold again. The spectators really make this race fun. At mile 11, a man was handing out beer; the three tutu guys in front of me shared his last one. On mile 11, I somehow picked up my speed by about 1 minute per mile, even with the slight hill. Mile 13 was awful, but I did manage to cross the finish line running. My time was 6 minutes slower than last year at 2:51:53, so I was disappointed, because I really wanted to beat my time.
The challenge medal was a big improvement this year. It was a cowbell, which made for noisy walk back to where I parked.
Since this was the start of a 3-year race medal series, I feel obligated to run the half again in 2018 and 2019. I have another half marathon scheduled in April, so, now, I'm working toward improving my time for that one.
P.S. – If I ever get my 2016 vacation videos edited, I will post about our vacation.
---
---