Happy Thanksgiving!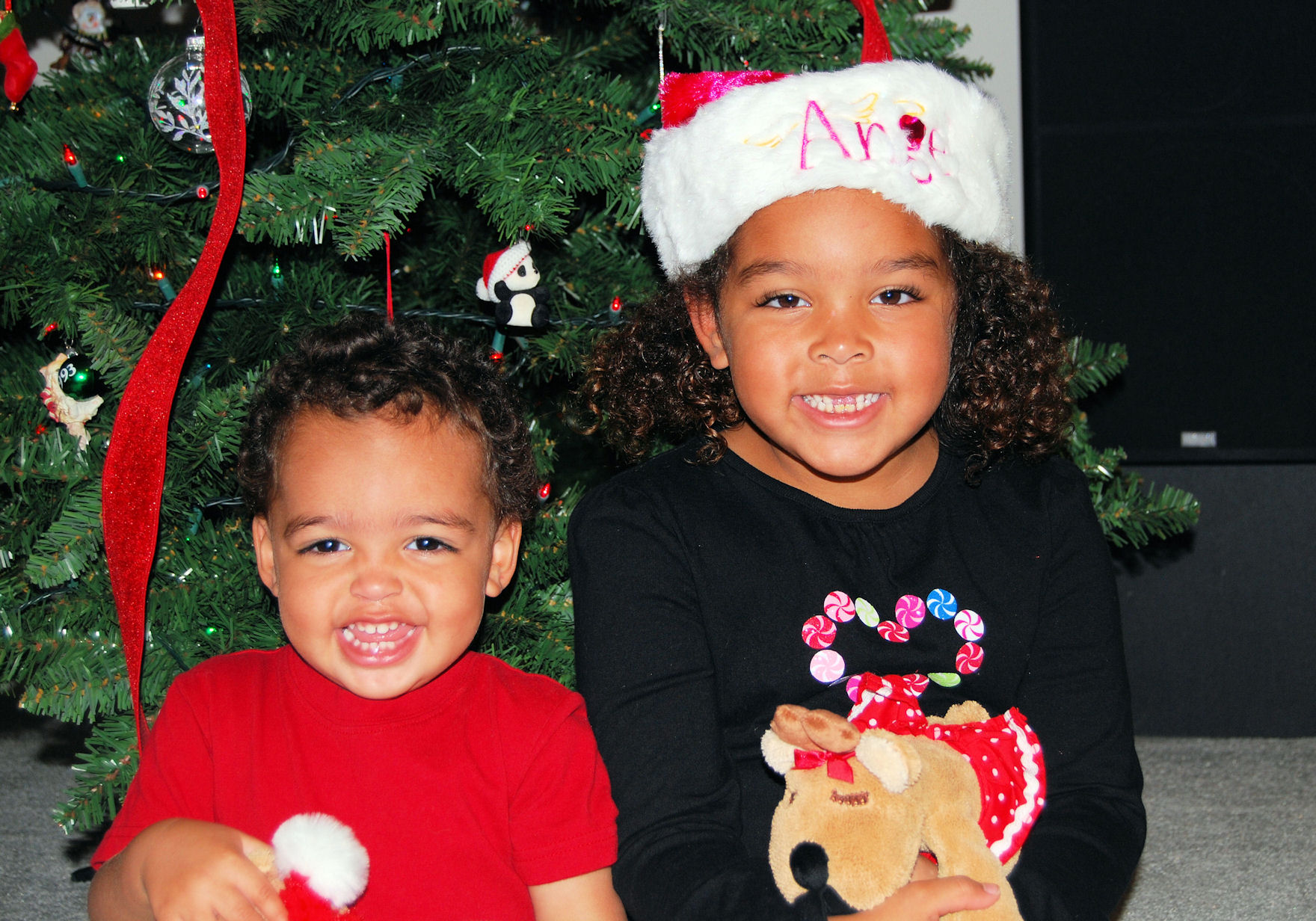 I cooked for Thanksgiving today…turkey, dressing, rolls, and mashed potato casserole.  Ok, the rolls were actually from a can, because the rolls I made from scratch didn't rise.  I'm still not sure what went wrong, there.  The rest of the dishes turned out pretty well, if I do say so myself.  I also made sugar cookies for dessert – not a traditional Thanksgiving dessert, but that's what Bill requested, and the kids sure liked them.  I guess I'll consider it a warm-up for Christmas, since I will bake three batches of cookies for Christmas Eve and Christmas day, and probably several batches before then for work and teacher gifts.
Now that Thanksgiving is over, it's time to move on to Christmas, by far my favorite holiday.  I put our tree up last weekend.  We have hopes that Zachary won't remove all of the ornaments before Christmas.  Here is a picture of the kids in front of it, which I'm using for our Christmas cards this year.
Zachary wouldn't keep his Dallas Cowboys santa hat on, but it was really cute.  Towards the end of the photo session, both kids were getting tired.  Hannah started pouting first.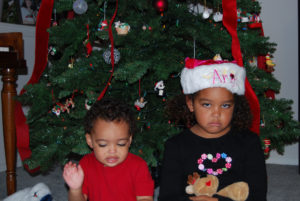 Then, Zachary started making faces.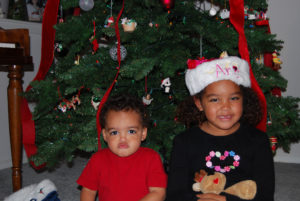 What fun it is to take pictures of two kids at the same time.
Well, unforturnately, it looks like A&M is not going to make it three in a row against t.u., but I can still hope until the game gets out of hand.  I was surprised to learn that the last time they played on Thanksgiving day was my freshman year.  I knew my sophomore year was on a different day, but that was the year A&M was on probation, so it wasn't televised.  Anyway, back to the last Thanksgiving day game…it was cold.  So cold, in fact, that it snowed in north Texas that day.  Kim and I were watching the Cowboys game from our dorm room that day, and couldn't figure out where they were playing at first because it was snowing.  They were playing Miami that year, so we knew they weren't playing in Florida, but we had a hard time they were playing in Texas, either.  I have since learned that the Cowboys always play at home on Thanksgiving (one of those facts I'm required to know since I'm married to Bill).  Kim and I went to the game early to see the Aggie band march in, and we just about froze.  The Aggies won the game, winning the Southwest conference, and people were throwing cotton.  It wasn't until my junior year that I would actually experience an Aggie loss at home (to t.u.).  Gig 'em Aggies!
---
---